Python is one of the most popular programming languages in the world and, as such, those privileged few who have learned to master the language are in demand. In fact, Python is currently the most in-demand language on the Built In NYC job board, with a whopping 92 open positions. While they're all amazing opportunities, we handpicked a few so you can get an idea of what's out there. After all, you're so in-demand you probably don't have time to go through all 92 (but, if you do, they're right here).
Software Engineer: SWAT at Oscar
What they do: Oscar is a health insurance company that is using technology to make health care simpler, more transparent and more human.
Who they're looking for: Someone comfortable working in a fast-paced, scrappy environment that is proficient in Python and SQL.
Why you want the job: You'll be joining a tight knit team inside a massive, tech startup. The engineering team takes pride in their ability to move quickly and tackle big problems on a daily basis. Plus, if you work here, you get really good health insurance.
Data Engineer at Noodle
What they do: Noodle is changing the way parents and students make education decisions. Whether it's finding the right kindergarten, liberal arts teacher or a qualified discreet mathematics tutor, Noodle is where you go.
Who they're looking for: They're looking for mid and senior-level people with the ability to create, manage and grow the company's massive catalog of products and services. More specifically, they want someone with a bachelors or masters in CS and knowledge of SQL and noSQL querying that has experience with different types of databases.
Why you want the job: In addition to a challenging position at a company that's shaping our education system, you'll get some pretty cool benefits. The company has a beautiful office on Chelsea Piers (and discounts to The Sports Center), good benefits and more snacks and drinks than you can possibly ingest.
DevOps Engineer at CB Insights
What they do: CB Insights runs a tech market intelligence platform that takes tons of data points and analyzes them to predict trends. They know who's ready to be acquired before anyone else.
Who they're looking for: Someone with at least two years experience using AWS and knowledge of BASH/Python.
Why you want the job: They're looking for someone to help them build big, resilient systems — which is pretty cool be a part of. The company also some amazing perks, like a yearly education stipend, commuter benefits, good insurance, etc. They also have an in-office 3D printer.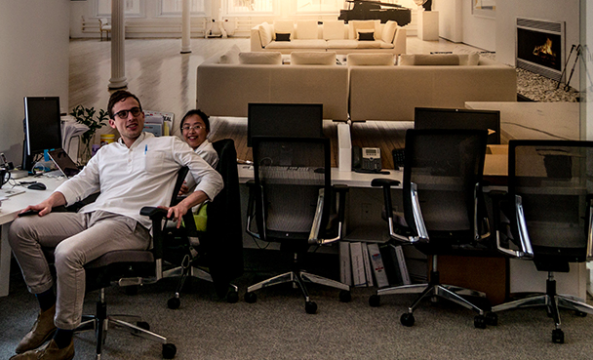 DevOps Database Engineer at Compass
What they do: Compass is using technology to bring the real estate market into the modern era.
Who they're looking for: Someone with a BS or CS with at least three years in Java and/or Python and at least 3 years working with AWS.
Why you want the job: Compass is growing like crazy right now and is one of New York's largest tech startups. You'll be an integral part of building out the company's technology platform.
Senior Software Engineer at Signpost
What they do: Signpost lets small businesses manage their online presences more efficiently and effectively. Their cloud-based platform automates the multitude of tasks companies are required to perform to effectively market themselves online.
Who they're looking for: They're looking for someone who is proficient in several high-level languages, like Python, Ruby, Java and/or C++.
Why you want the job: Signpost is a quickly growing, early stage company with a huge potential for growth. Get in now, and grow with them!
p.p1 {margin: 0.0px 0.0px 0.0px 0.0px; font: 12.0px Helvetica} p.p2 {margin: 0.0px 0.0px 0.0px 0.0px; font: 12.0px Helvetica; min-height: 14.0px}