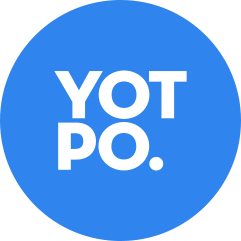 Marketing Communication Director
Yotpo is looking for an experienced Marketing Communication Director. With 1000s of happy customers, we want to build a brand to match the business success we've had. This person will be responsible for leading the continued efforts of creating a brand and market awareness for the US Market.
 The Yotpo environment you will be joining is a culture in which entrepreneurship is an aspect of every facet of what we do. Each person's contribution day in and day out directly impacts company growth as a whole. We are driven to become better in everything we do, and we do so by learning and growing from one another.
The Role
Becoming our spokesperson with press and at events

Working with content team and product marketing to develop engaging stories

Leading PR efforts to achieve press coverage, with a focus on collaborating with marketing executives at small and medium enterprises

Developing exceptional analyst relationships to support decision maker awareness



Requirements
Experience working within a marketing communication capacity at a successful technology company

Previous experience building a strong brand for a B2B product

Ability to think outside of the box

Proven, tangible results to point to from previous brand building initiatives

A great speaker, capable of telling a story that excites an audience

Collaborative team player, comfortable operating cross-globally with our teams in Tel Aviv and London

A valid U.S. work authorization



Why Yotpo? 
User-generated-content is now one of the top marketing buzz terms and we're the leaders in fine-tuning the approach. Take Deloitte's word for it: http://bit.ly/2016deloitte50

The opportunity to learn from and work closely with our VP Marketing and the Marketing Team

Titles are just that. Everyone in the office has equal respect for each other and we genuinely enjoy spending time with one another, inside and outside the office

We offer a competitive salary and benefits.
About Yotpo:
Yotpo is the leading customer content marketing platform, generating reviews, social Q&A and rich media. We use the verified experiences of customers to increase businesses' on-site conversion rates, boost organic SEO ranks and reduce cost per acquisition.
Our vision is to maximize each company's current customer base in order to provide verified content, resulting in new customers and increased spend. 
Yotpo's network of 220,000+ stores is growing rapidly with over 5,000 stores joining and 100 million shoppers visiting every month. Our software has directly accelerated small business growth for clients including MVMT Watches, Leesa, and PuraVida Bracelets.
Read Full Job Description