Ethical AI: How individuals, businesses, and society can start benefiting today
06:00 PM - 09:00 PM
Data Science
Marketing
Women in Tech
Description
After dozens of events on the power and applications of AI, we are proud to feature a special event focusing on exposing some of the risks of AI, and, perhaps more importantly, what can be done.
Solutions do exist that can be business, consumer, and society positive.
Joe Toscano will shed light on some of the dark patterns of modern applications and concerns of job automation. How can regulation be both protective while still supporting innovation?
We continue exploring on a panel with Joe Toscano and Nathan Kinch on the risks of information asymmetry and danger of data breaches and how understandable AI and other techniques can rebuild trust.
Please send us any questions for the panel to https://m.me/botsandai or at questions[-at-]botsandai.com.
Joe will be signing copies of his book, Automating Humanity, and we will be doing a giveaway for a number of copies.
We also have a special pre-event workshop from Nathan. In the workshop, you'll practically apply the Data Trust by Design toolkit. You'll walk away ready to design for trust. Greater Than X is also gifting all of you a copy of their new playbook, Data Trust by Design (launching February 8). Learn more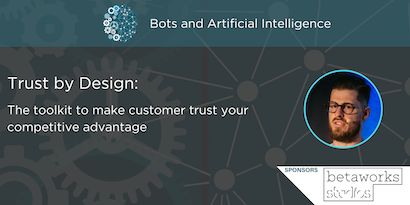 Event Schedule:
6:00 PM Networking & Food, Beer
6:30 PM Kickoff & Sponsors (IBM, Betaworks Studios)
6:35 PM Joe Toscano, BEACON - Inducing Ethics: How to Regulate the Internet and Make Change
7:20 PM Nathan Kinch, Greater Than X - Trust introduction
7:30 PM Panel: Joe Toscano and Nathan Kinch on trust
8:15 PM Extended Q&A followed by networking
Presentation Summaries:
Talk 1 - Joe Toscano, BEACON - Inducing Ethics: How to Regulate the Internet and Make Change

This talk, given by former Google consultant and author of Automating Humanity, Joe Toscano, will give you an insider's perspective on everything Big Tech doesn't want you thinking about: everything from the addictions installed on a global scale to the profits being driven by fake news and disinformation, to the way they're manipulating the world for profit and using our data to train systems that will automate jobs at an explosive, unprecedented scale. Toscano will then critically analyze these issues and suggesting how we can create proactive, adaptable regulation that satisfies both the needs of consumer safety and commercial success in the international economy.

You will learn:
What is happening in Big Tech, from an insider's perspective.

Why regulation is so necessary.

What businesses can do to prepare for what's coming and how to sell the changes to leadership.

What role we play in the changes that need to be made.
Talk 2 and Panel

Alec Lazarescu and Joe Toscano will be joined be Nathan Kinch, CEO of Greater Than X and inventor of Data Trust by Design, to discuss the big issues our industry faces. We'll cover information asymmetry and power imbalances, understandable AI and data breaches, and most of all, we'll talk about techniques that are working with leading organizations to increase data trust and maximize customer and business value.
Speaker Bios:
Joe Toscano is an international award-winning designer and recently-published author who previously consulted for Google, but left due to ethical concerns. He has since written a book, Automating Humanity, and started the Better Ethics and Consumer Outcomes Network (BEACON), both of which are focused on discovering opportunities for purpose-driven innovation and moving communities forward in the age of automation.
Building upon his leading work in the Personal Information Economy, Nathan founded Greater Than X to help organizations find better ways to deliver customer-centric products and services. Prior to this, Nathan managed product innovation portfolios for large corporates in Australia and was founding CEO of a venture-backed sports analytics start-up. Earlier in life, he was an elite athlete. In his role at Greater Than X, Nathan helps leading organizations operationalize strong data ethics, Privacy by Design and Data Trust by Design to build more trusted and valuable organizational structures and customer propositions.
Sponsors:
This event is made possible with the support of IBM and Betaworks Studios.